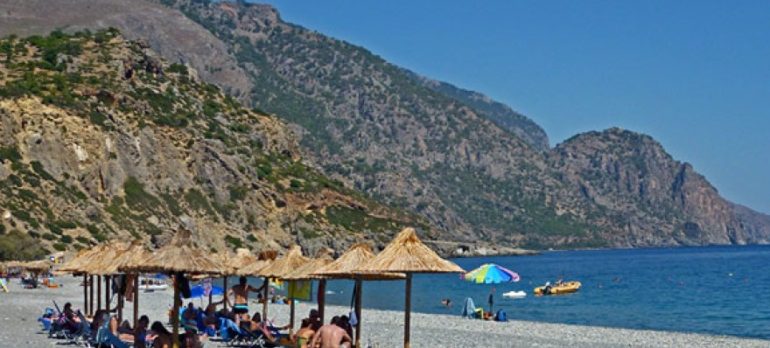 * Prices valid for departure from Platanias region
We are on call 24 hours a day and we will be pleased to pick you up from your place and take you to Sougia with the minimum of fuss. The trip ends with the driver returning you at your starting point, at the same place he left you, the time you agreed.
Join Sougia Beach Tour and swim in the incredible blue water of Sougia beach! The small village of Sougia in the south-west of Crete has managed to remain unaffected by the growth of tourism in Crete. It is still a peaceful haven, with a long beach, plenty of good accommodation and excellent places to eat, all at prices below those found in most of the island.
The beach of Sougia is 1,2 km long and is the longest beach in the South-West of Crete. It is also quite wide (up to 70 meters in places). There are only a few beach chairs and umbrellas in a limited area, the beach never ever feels crowded because it is so long and wide and the sea in Sougia is one of the cleanest in Greece. This has to do with the quality and the depth of the water, the mild development of the surrounding area, and the lack of intense agriculture and the presence of greenhouses, which are evident in other parts of Crete.
From early April to late October Sougia attracts visitors looking for a relaxing holiday away from mass-tourism. Whilst you can chose to do very little apart from lazing on the beach or enjoying the relaxed atmosphere of a few beach front cafés there are also a number of beautiful walks you can do in the region. In Sougia, you can taste authentic Cretan recipes, made from fresh local ingredients. This is the reason they are frequented by the locals, too.
Sougia is a historical site where a lot of excavations still have to take place. This is the reason why it is not allowed to build houses and no land is given out for sale, so an etra guarantee that it will not be exploited for mass tourism. The village has appealed to visitors from northern Europe since the early 1970s and many of the people that you will meet in Sougia have been visiting quite a few times.