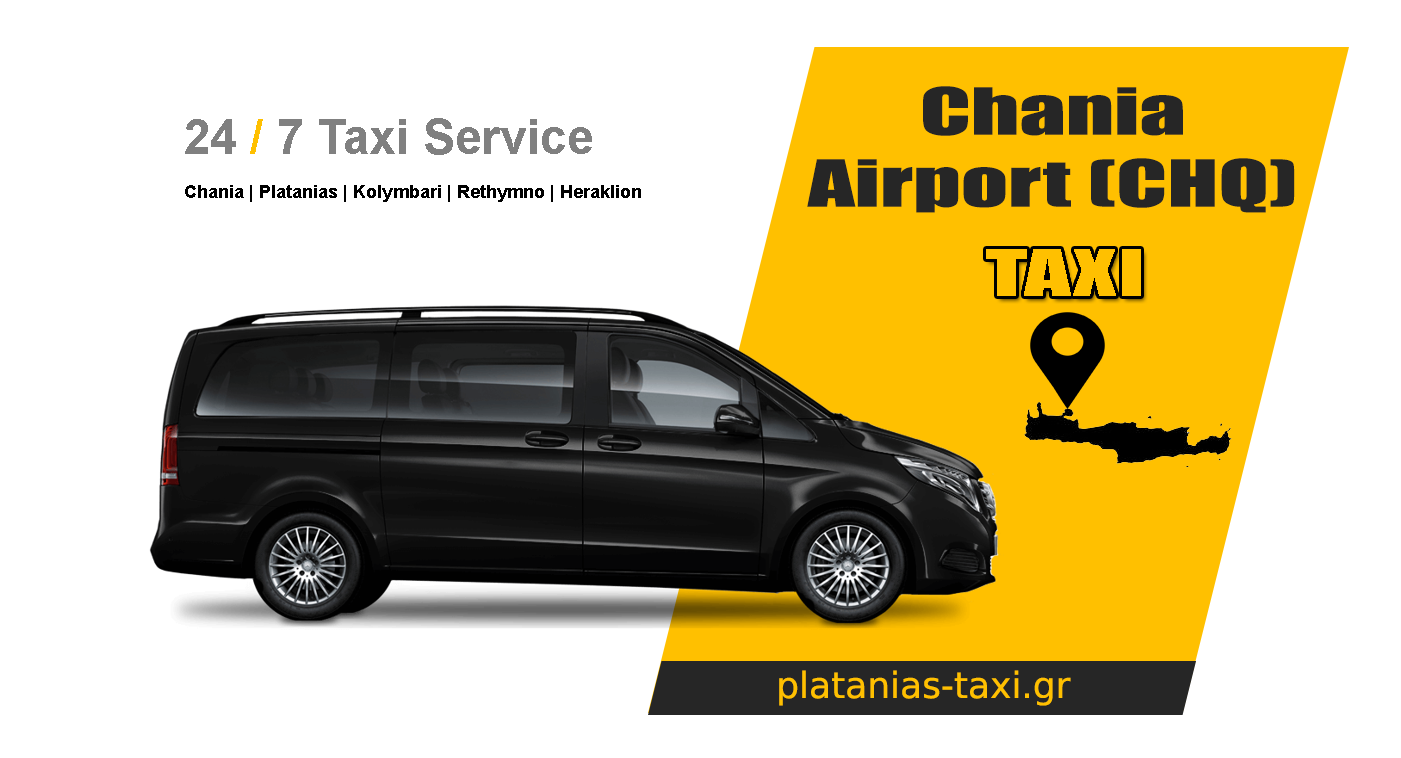 Chania Airport Taxi, Minivan & Minibus | Airport Chania (CHQ)
Make your Taxi, Minivan & Minibus request and we will soon confirm your reservation.
Book Taxi, Minivan or Minibus Transfer From Chania Airport (CHQ)
Book online now your Taxi or Minibus transfer in Crete using the booking form, no need to make any prepayment, no credit card needed, as you will pay to your driver after you reach your destination. For Crete Tours reservation click "Taxi & Minibus Tours" button and select the tour that you want to join. Tours departs and returning to Platanias Taxi Head Office in Platanias, Chania office.
Platanias Taxi Company is the service you should turn to if you want safe and worry-free taxi transfer. Through our Taxi & Minibus transfers, you are sure to arrive at your destination in Chania or anywhere in Crete. The booking of a taxi or minibus with us is very easy. All you need to do is to fill up our online form and follow the succeeding process. Your information will always be secure with us and we shall confirm your reservations very quickly with email. Our taxi service is available 24 hours daily, and no matter what time you arrive to Chania airport or even if your flight is delayed, the driver designated to you will be waiting for you at arrivals with your name clearly printed on a sign. The drivers will carry your luggage for you and chauffeur you to your hotel or holiday apartment.
Taxi & Minibus Prices
Taxi 1-4 persons | Minivan 5-8 | Minibus 9-13 persons
| From Chania Airport To: | Taxi Price | Minivan Price | Minibus Price |
| --- | --- | --- | --- |
| Platanias | 42€ | 70€ | 110€ |
| Chania Town | 28€ | 55€ | 80€ |
| Agioi Apostoloi | 35€ | 65€ | 100€ |
| Kalamaki | 37€ | 65€ | 105€ |
| Stalos | 38€ | 65€ | 105€ |
| Agia Marina | 40€ | 70€ | 110€ |
| Gerani | 44€ | 75€ | 115€ |
| Maleme | 47€ | 80€ | 120€ |
| Tauronitis | 50€ | 87€ | 125€ |
| Kamisiania | 52€ | 90€ | 130€ |
| Kolymbari | 55€ | 95€ | 135€ |
*Fixed prices
Check Out All Prices