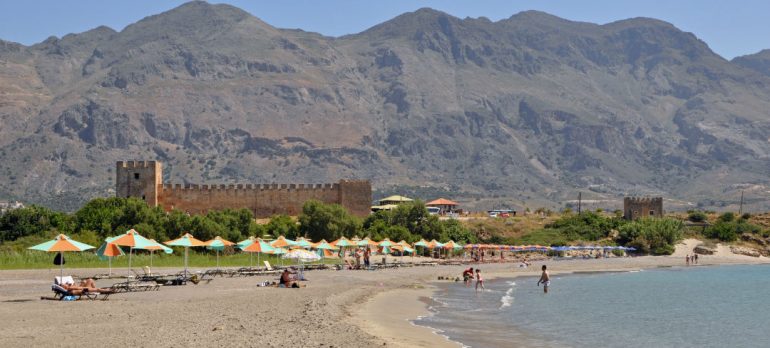 * Prices valid for departure from Platanias region
We are on call 24 hours a day and we will be pleased to pick you up from your place and take you to Frangokastello with the minimum of fuss and with possible stops during the trip .The trip ends with the driver returning you at your starting point, from the same place he left you, the time you agreed.
Swim in amazing Frangokastello Beach during the Frangokastello Beach Tour! Frangokastello beach Chania Crete. Frangokastello is one of the most interesting spots in Chania. Right in front of the castle is a lovely beach with very shallow water, ideal for small children.West of the castle is another beach with pebbles and a rocky seabed suitable for snorkelling. Most of the rooms and apartments are on this side of the village.About 300 metres east of the castle is one of the most beautiful beaches in Crete, known as "Orthi Ammos" ("Standing Sand"), named after the sand dunes you have to scramble down to reach the water. The sea is crystal-clear and the bottom slopes down very gently.
The extensive, sheltered and gently shelving sandy beach of Frangokastelo is truly magnificent, with sand and shallow turquoise waters. It is poorly organized and is quite busy in Summer (July, August).
Far away from the centre, 80 km south east of Chania town is found on the southern side of Crete, 80 km south of Chania Town. It is located in front of a small tourist settlement and right in front of the famous Frangokastello, a Venetian Castle.
Explore the fortress of Frangokastelo, where historic events took place during the period of the Venetian rule, as well as during the subsequent period of the Ottoman rule. Outside the walls of the fortress, you will see a monument that stands there to remind the battles of the Cretans given in Frangokastelo, for the freedom of Crete. Many monuments were built in the area through the centuries, but very few survive today. Most were destroyed in the wars and risings in the area, and the stones from their ruins used to build the castle
This is an organized beach with sunbeds and umbrellas, crystal water, fish taverns and some small hotels. The legend says that ghost soldiers appear on this beach in some dawns of May. As the legend says, these are the souls of the soldiers of Chatzimichalis Dalianis, who never buried. A unique landscape and one of the many surprises the natural environment of lovely Crete has to offer.