Platanias Taxi Services – Taxi & Minibus
TAXI MINIBUS TRANSFERS – AIRPORT CRETE HOTEL TRANSPORTATION
Head Office: PEO Kissamou Chanion 323 Platanias, Chania, Crete
Tel: OFFICE: 0030 28210 60666 – 0030 28210 60880 | MOBILE:  0030 69479 07030
Platanias Taxi Services rendered quality taxi transfers in really friendly prices. Platanias Taxi specialized in transfers from/to airports, ports, hotels, conference participants, athletes, students, travel agencies customers and independent groups of travelers. Crete Tours with Taxi or Minibus is also available, at the most beautiful beaches of Crete, Museums and Gorges. Our vehicles always at your disposal 24/7 and can be pre-booked online, fast and easy!Enjoy our high level transfer services and we promise you the best Cretan transfer prices without waiting at airports, harbors, bus stations and without hidden debits.
Platanias Taxi Head Office Photos
Platanias Taxi Office 2
Street Address: Palea Ethniki Odos Kissamou Chanion 102 Platanias, Chania Crete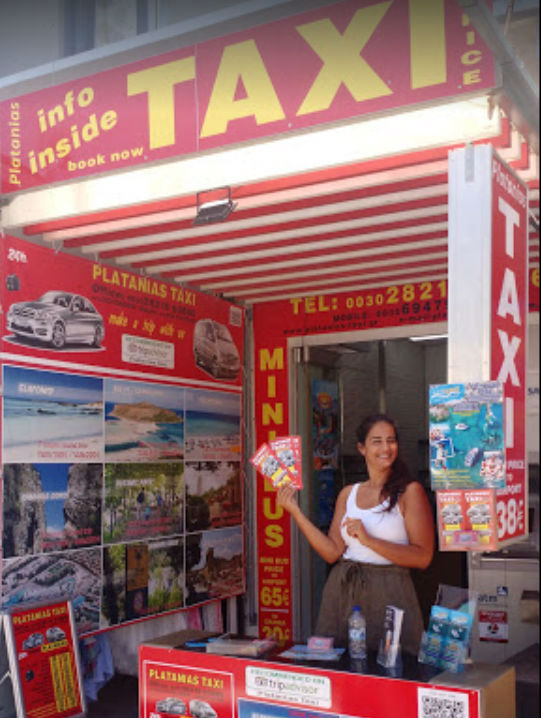 Platanias Taxi Services:
A comfortable Mercedes  cars / mini bus
No prepayment required
Pay when you arrive at your destination
Private TAXI & MINIBUS Transfers Tours
Taxi package delivery
Business meetings
Quick and Easy Online Booking, no credit card need.
Taxi Transfers:  Chania | Heraklio | Rethymno
Book online now your Taxi transfer in Crete using the booking form, no need to make any prepayment, no credit card needed, as you will pay to your driver after you reach your destination. For Crete Tours reservation click "Taxi & Minibus Tours" button and select the tour that you want to join and book. Tours departs and returning to Platanias Taxi Head Office in Platanias, Chania office.
Platanias Taxi
Taxi and Minibus transfer in Crete, Greece.
PEO Kissamou Chanion 323
Platanias,
Chania
Phone Office: 0030 28210 60666
0030 28210 60880