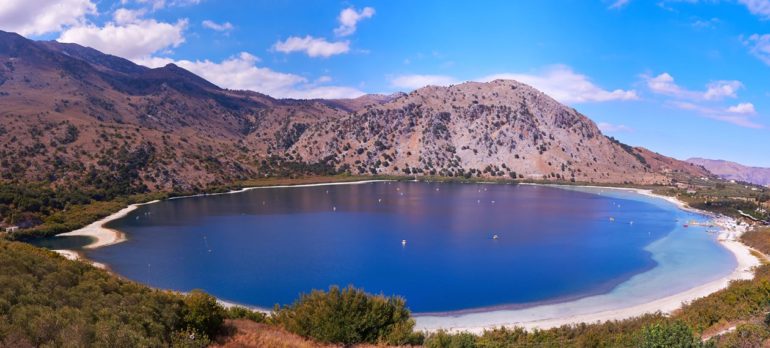 * Prices valid for departure from Platanias region
We are on call 24 hours a day and we will be pleased to pick you up from your place and take you to Kournas lake with the minimum of fuss and with possible stops during the trip. The trip ends with the driver returning you at your starting point.
Explore the beautiful Cretan landscape during the Kournas Lake Tour! Lake Kournas is actually the only large natural lake in Crete and is located in an enchanting landscape, surrounded by high mountains and olive groves. It is located near the village Kournas, 2.5km southeast of the beach of Georgioupolis, 43km east of Chania and 20km west of Rethymnon. The lake has been created by the accumulation of groundwater coming from the White Mountains. The water gushes from a spring called Amati or Mati (meaning "eye"), which is over the lake surface in the summer months, while it's hidden below the surface during winter.
The scenery is picturesque, beautiful, idyllic, relaxing. You might see the lake when it shimmers, or you might see it when it mirrors the surrounding hills with the lush bushes. Its circular dark color was the cause of creating the myth that the Lake is bottomless, while its beauty preserves until today, the legend about the nymph who lives into the lake of Kournas. This myth has been broken, since the maximum depth of it has been estimated at 22.5m.
At Lake Kournas you can rent a pedal boat or a kano, and there are parasols and sunbeds for rent. On two sides of the lake there is a taverna where you can have a drink or something to eat and that is it: no souvenir shops, hotels and houses. If you want to have some rest and sit down to watch the birds and the nature there are wooden benches along the paths.
The lake is surrounded by lush vegetation composing of rare aquatic plants and trees. The dark color of the water is caused by the weed.Many species of birds find shelter here, like moorhens, ducks, herons and cormorants.