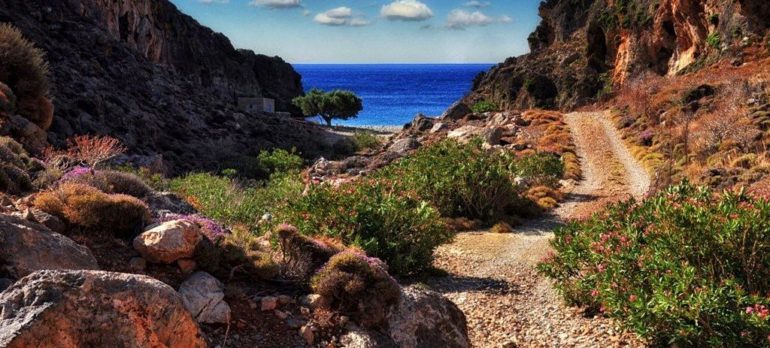 * Prices valid for departure from Platanias region
We are on call 24 hours a day and we will be pleased to pick you up from your place and take you to Agia Irini Gorge with the minimum of fuss. The trip ends with the driver returning you at your starting point, from the exit of the gorge the time you agreed. It is also possible to visit the beach of the sougia.
Taking part in the Agia Irini Gorge Tour and explore the Cretan landscape! Agia Irini Gorge: From the South end of the village of Agia Irini, at an altitude of around 560 m, the gorge of Agia Irini is a deep cut along the western edge of the White Mountains which will take you all the way down to the shores of the Libyan Sea at Sougia.
Facts about the gorge of Agia Irini
From the entrance of the gorge of Agia Irini (just by the road below the village of Agia Irini) to the exit of the gorge at the Oasis Taverna the walk is 7.5 km long and the descent is around 500 m. It takes around two and half hours to walk on a well maintained path. Most of the gorge is in the shade with plenty of pine trees, plane trees and oleander bushes.
From the exit of the gorge to the village of Sougia the walk is on a (mostly traffic free) road with only little shade and the distance is around 7 km.
The gorge is open all year around but there is a small river running through it and after heavy rains it could make parts of the gorge impassable or at least unsafe.
During the tourist season (from April to October) a small fee of 2 Euro is taken at the entrance of the gorge (or exit if you are walking up the gorge). The fee is used to pay for maintenance of the path, rubbish collection and generally making sure that things are OK along the walk.
The path is always clear to follow and is shaded most of the time by plane and pine trees. There are a few ascents along the side of the gorge but the path always descends back into the bottom of the valley, crossing the river bed several times. There are a few other rest areas with water (but not always working so best to carry a small supply of water).
In the spring the gorge is full of wildflowers but most of them dry out by late May and get replaced by flowering oleander bushes.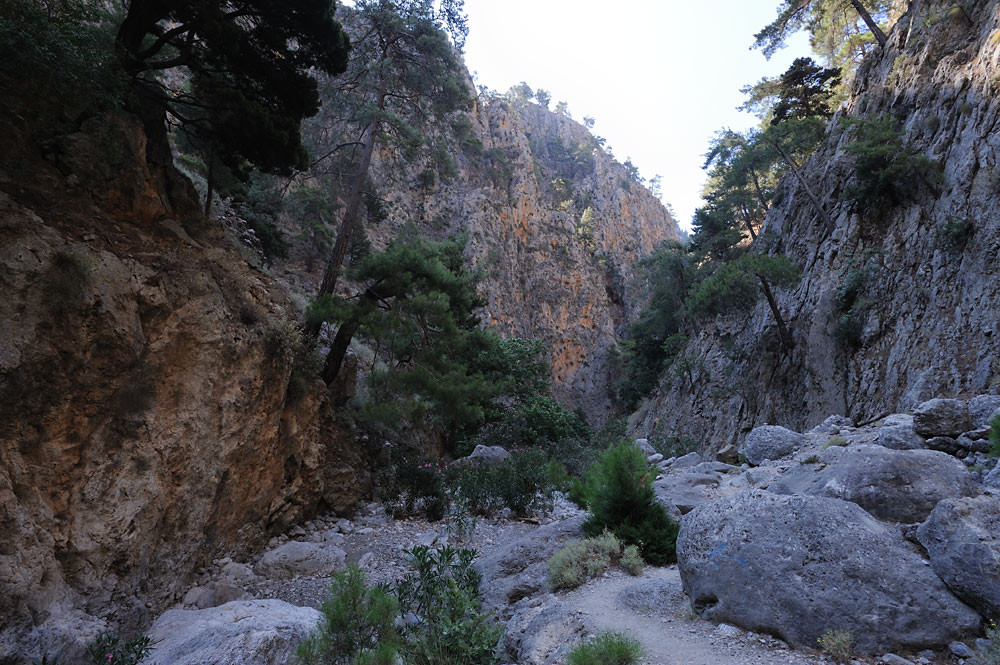 The gorge ends up in the seaside village of Sougia, where there is a clean and beautiful beach where you can enjoy a memorable swimming in the waters of the Libyan Sea